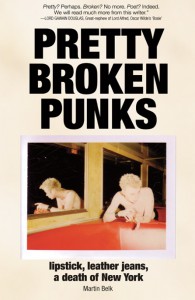 by Martin Belk
2012 Polwarth Publishing UK
2013 Greenpoint Press NYC
What was it like to rock 'n' roll at the infamous SqueezeBox! — with the likes of Debbie Harry, JFK JR and Hedwig, before Giuliani declared war on dancing the night away?
"Belk is the Armistead Maupin of his generation!"
—Edinburgh Evening News
First edition out now, with special offer!
Coming 2014: Deluxe Collectors Edition
'Black outfits at midnight, guitars screeching til' dawn, glitter in your breakfast cereal. NYC: a place where freedom doesn't hang as a street sign, but climbs down and dances on the pole for you…'
NEW YORK CITY 1988 to 2004 • Gotham's last stand. Corporania™ taking over. The city you struggled to get to is disappearing. First you take refuge inside the most wildly creative scene Manhattan can conjure up, then slug your way through the great AIDS die-off. ultimately, you find yourself a producer of Squeezebox! —the hottest club in New York since Max's Kansas City — and create the first NYC web concert starring Deborah Harry. Along the way, you take a ride with people from your wildest dreams — a gallery of fellow misfits, kings, queens and queers; rock, pop & punk royalty … but how do you make it out alive?
 download Official Press Release
"Full of great memories, names, observations. It brought it all back. Don't change a word…"
–MICHAEL MUSTO, The Village Voice
"A lithely written, honest and perceptive account of a unique time."
–IAIN BANKS
author: Stonemouth, The Wasp Factory & The Quarry
"A superb memoir about coming of age in the bright haze of NYC's demimonde . . . Belk writes with great candor and intelligence about his time and one cannot help but admire the searching young man who emerges in these pages."
–JUNOT DIAZ
Pulitzer Prize Winner, author of The Brief Wondrous Life of Oscar Wao & Drown
"Belk reveals a Beaudelarian sense of the city and a profound and burgeoning poetic power and sensibility. He may not know this–I'm telling him. Pretty? Perhaps. Broken? No more. Poet? Indeed. We will read much more from this writer."
–LORD GAWAIN DOUGLAS
(great-nephew of Lord Alfred Douglas, Oscar Wilde's 'Bosie') 6 June 2012, author of Fortuna