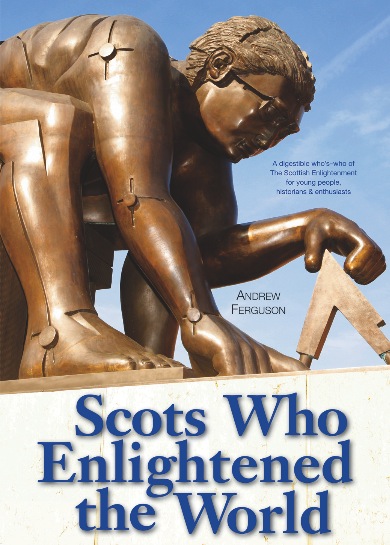 by Andrew Ferguson; Martin Belk Editor.
The new, fresh who's-who of the Scottish Enlightenment.
If you drive a car, have an operation, use a mobile phone or watch TV, wear a raincoat, have survived the flu, or discussed the upcoming independence referendum — you've benefitted from the work of an enlightened Scot. They brought you tyres & telephones, philosophy & poetry, literature & liberation, science, steamships, lighthouses and a Wealth of Nations.
Introduction by First Minister Alex Salmond • 48 Key Figures from the Scottish Enlightenment • Extensive Journalistic Archive Images • Web & Online Links • Fully Indexed • Over 28 deluxe color illustrations from the National Galleries of Scotland
"…this excellent chronicle of achievement should be mandatory reading for today's teenagers. An outstanding tribute to the great Scots of the past, and an incredible inspiration to the generations of the future." —Shari Low, DAILY RECORD
paperback and deluxe hardcover editions available – order yours with discount and free shipping
download Official Press Release