My first cinematic wish for 2014: please, dear Hollywood, STOP MAKING THIS SHIT.
Perhaps they aren't releasing it, at all, in Paris, because of the potential for a complete literary meltdown. I finally got to see the long-awaited Kill Your Darlings "starring" Daniel Radcliffe. Pretty good film. Cheesey quick-takes and indy rock music. Pretty good acting. Historical piece of crap.
Austin Bunn & John Krokidas took an otherwise incredibly compelling true biographical story of some of the most influential writers of the 20th century and just threw the facts in the air and made it up as they went along. Some of which I've discussed with a dear friend who was very close with Ginsey. Such as, starting from the end:
-This master-piece-o'-shite implies that Ginsberg and Carr were estranged after the 1944 Kammerer murder.  NOT. Here's a 1952 image of them sharing a drink at a wedding. Search the web, there's plenty more.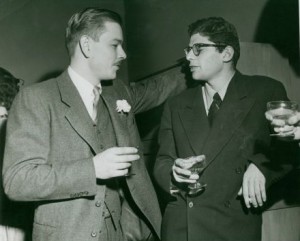 -They portray Ginsberg & Carr rolling Kerouac in a barrel at Riverside Park. NOPE. The rolled him down Broadway.
-A huge brouhaha was centered around Ginsey writing Carr's "deposition". NADA. First, US District Attorneys do not take depositions handed in by college kids. Second, as far as I can tell, it never happened.
-The depiction was made that Ginsey got expelled over handing in said deposition-turned-novel at Columbia, and that his professor encouraged him to "keep going". BZZZT. In fact, his professor persuaded Ginsberg to abandon 'The Bloodsong' – in order to avoid more negative press for the university.
Then, there's the whole love story between Ginsberg and Carr. Doesn't seem to have happened. All the evidence seems to point to little more, if anything at all, than a schoolboy frolic. The real story was that Carr introduced Ginsey to Neal Cassady who Ginsberg did, *cough*, in fact, become completely enamoured with.
Finally, there's the lynch pin of this whole cinematic debacle: that Ginsberg told Kammerer where to find Carr, who was supposedly joining the merchant marines with Kerouac. NOT A CHANCE. Actually, both were booted off the ship by an officer before it sailed. Kerouac told Kammerer where to find Carr, who he'd left at a bar.
And thus, this tragic attempt at film making falls apart. Whether it's with this lame-brained failure of a film, the recent 'Christopher and His Kind' nightmare on BBC, or the beautiful but entirely incomplete Tom Ford travesty 'A Single Man' — fuck Hollywood, read the damn books. Then beat off. They're better.
At least I dodged the ticket collector tonight on the train, and London refunded 2.50 of this 9.50 movie swindle.
mlb-London