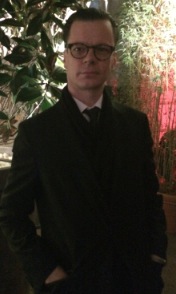 I haven't been to a major celluloid soirée since New York City, at an Edith Head Gala for charity — film & tv are not typically in my otherwise literary/professional theatre travels. But something remains wild in my mind about watching the models walk the runway in Bette Davis' dresses & Clark Gable's suits. A little bit of Hollywood goes a long way.
Last night, I arrived with the pretty-much-early-on-time crowd for the official BAFTA-bash. Why not? Waiting for 'the perfect time' to coincide with the celebrants of 2015 was, to me, precisely akin to chasing a herd of cats. At Rosewood London, me & photographer Jonathan Daniel Pryce (@garconjon) popped out of the Mercedes our gracious hosts from Grey Goose and Michael Weinstein Company sent to collect us. Outside were black ropes and red carpets — and another intimate party-of- five which included someone I very much admire, entrepreneur Kelly Hoppen (@KellyHoppenhome). I figured if Kelly can be early, we could warm ourselves by the faux fires that burned all around us without social stigma. Success runs its own time.
As things went from underway to full swing, and a milieu of celebrity (names you can get over from the boys at Hello) poured in, I began to notice how familiar yet sui generis things appeared to me, the expat New Yorker who'd lived several previous lives in rooms of fancy and faces. Perhaps it was the hour of the evening, or my 10-year old jet lag from crossing the pond, but I noticed something perhaps only Stephen Hawking might explain — a string theory in images.
Being an East Coast music and theatre-bred indigene the only sighting that excited me was Nick Cave…but the rest of the crowd certainly did not disappoint. They came, went, some joined us at our table along the route to their tables, and it was as if we were in some parallel universe far way, these happy, relaxed faces mingled. And it was as if this prime night gave everyone an excuse to just be, together. Sure there were a scant few operators, meh, but few anxious moments that tend to wrinkle the eyelid at such affairs. It was also refreshing to see some LA chickens out of their roost — perhaps London gave them permission not to perform so hard.
Yet it was within this excitement that this playwright-observer found new lament to the corporatization of this lost world. The cultural destruction of our cities came to mind — I cannot imagine the Paris soirées of La Belle Époch, the bashes at the old Algonquin NYC, or  the swing of London thriving under the hammer of brand, label and spreadsheet. And it's too bad that the world is so, very, troubled right now… humans tend to create pretty good drama when you allow them … thankfully these 'last nights' still exist in pockets.
Later, while awaiting our chariot, a black car pulled up and a very large man got out carrying his BAFTA Award — which he sort of carried like a notebook down by his side. We caught a brief glance and, noticing my attention to his shiny new accessory, quickly held it tastefully-halfway up for me to grab a seconds' closer look, as if to say – "oh yeah, I got this, and it hasn't sunk in yet." And while Oscars are nice, I guess, in that moment I was reminded of the sophistication of Europe — (to which London shall remain a cultural and geographic part of despite the recent efforts of corporatists and political Philistines) — a sophistication that still has the potential and legacy to provoke the creative spirit.
Trophies are crafted to sit on shelves — BAFTA's are crafted to wear, as it were. But also comes to mind, a column in Interview magazine way back when with a Studio 54 regular:
"You spend your energy getting in, and then you've arrived. Then you get into the VIP room, then you've arrived. Then you get invited to the manager's private suite, and then you've arrived. Then you wonder what's behind that secret door at the back of Rubell's manager suite, and in a fog you go through it, and find yourself in the alley, on your way home."
Time to keep creating…
MLB – London, 9 Feb 2015
(with thanks to Charlotte and the team at Grey Goose).